Tecumseh Outdoor Drama
Witness the epic life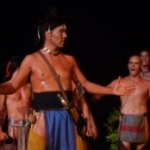 story of the legendary Shawnee leader as he struggles to defend his sacred homelands in the Ohio country during the late 1700's. Tecumseh! has been labeled as one of the most mesmerizing dramas in the nation.
Hocking Valley Scenic Railroad
Welcome aboard an old time passenger train for a leisurely ride through the beautiful hills of southeastern Ohio. Enjoy the blooming dogwood trees in the spring, summertime fun, nature's spectacular fall foliage or a special winter ride with Santa.
Rock House
Rock House is unique in the Hocking Hillsí region, as it is the only true cave in the park. It is a tunnel-like corridor situated midway up a 150-foot cliff of Blackhand sandstone.
Old Man's Cave
The most popular of all the Hocking areas is Old Man's Cave, located on State Route 664. Here at the Upper Falls, the Grandma Gatewood Trail begins its six-mile course connecting three of the park's areas: Old Man's Cave to Cedar Falls to Ash Cave. This same trail has been designated as part of Ohio's Buckeye Trail as well as part of two national systems - the North Country Scenic Trail and America's Discovery Trail.